It's Sunday! ~ Welcome to Week #14 of Raising Imperfection! 
I know, I promised the 49ers were going to win last weekend but they didn't. Thankfully they did come back and make a game out of it so that makes me happy! Anyway … we are back this week for Raising Imperfection! Who's excited?? Yeah you are!
 Link your funny stories, best recipes, parenting successes, parenting fails, DIY projects and tips, photo bomb posts and more! We want to learn more about the people we connect with daily. Then…come back for Feature Fridays! Leslie and I choose our favorite links from the link up and feature them on our blogs!
Please grab our button and help this link up grow!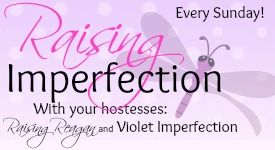 Be sure to visit Leslie and I for Feature Fridays to see if your post was picked to be featured!
Tweet
Want to be our co-host next week? Enter our GIVEAWAY! You get an entry just for linking up so join us!
You Might Also Like...